Product Description
Grey cover TUCSON IX35 2015 car DVD player
1. Shenzhen Klyde Electronics Co.,Ltd is founded in 2007. We are one of the first leading company in China. At present, we have almost all the models car DVD for different cars. The android system is very stable now, and we have many clients around the world. This Grey cover TUCSON IX35 2015 car DVD player is one of them. So, you do not have to worry about the quality, all of the inner parts are imported from famous brand company to guarantee the quality from the material source.
2. The specifications of Grey cover TUCSON IX35 2015 car DVD player are as follows:
OS: Android 8.0.0 System
TFT drive IC: Rockchip PX5
CPU: Rockchip PX5 ,Cortex-A53, Octa core
Loader: SHINNY D-28HX-PWW-53X
RAM: SAMSUNG DDR3 4GB
Pick up: HITACHI 1200HX
Flansh: 32GB
Motor drive: MABUCHI
Radio: NXP 6686
Amplifer IC: TDA 7851
GPS : SIRF III
DVD decoder IC: Sunplus 8202VGQ
Screen: Capacitive and multi-touch screen
Screen: Hanstar Screen
Video Decoder: 1080P HW
Power supply: 4*50W
WIFI: Built in
Bluetooth: 7OC-MD-705 ( 2 DIN ) GOC-MD-6202A ( 1 DIN )
DVR: USB Camera (PC Standard)

3. The quality of this model: Grey cover TUCSON IX35 2015 car DVD player, has been tested many times before starts to sell. So, you can use it with no worries. Klyde will keeping researching on new and better products for you.
4. With this Grey cover TUCSON IX35 2015 car DVD player, you can download a may to navigate, listen to music, watching movies and video, etc. You can also connect it with your mobile phone to share the wifi to this Grey cover TUCSON IX35 2015 car DVD player. So that you can use it on the way of driving.
Pictures of Grey cover TUCSON IX35 2015 car DVD player: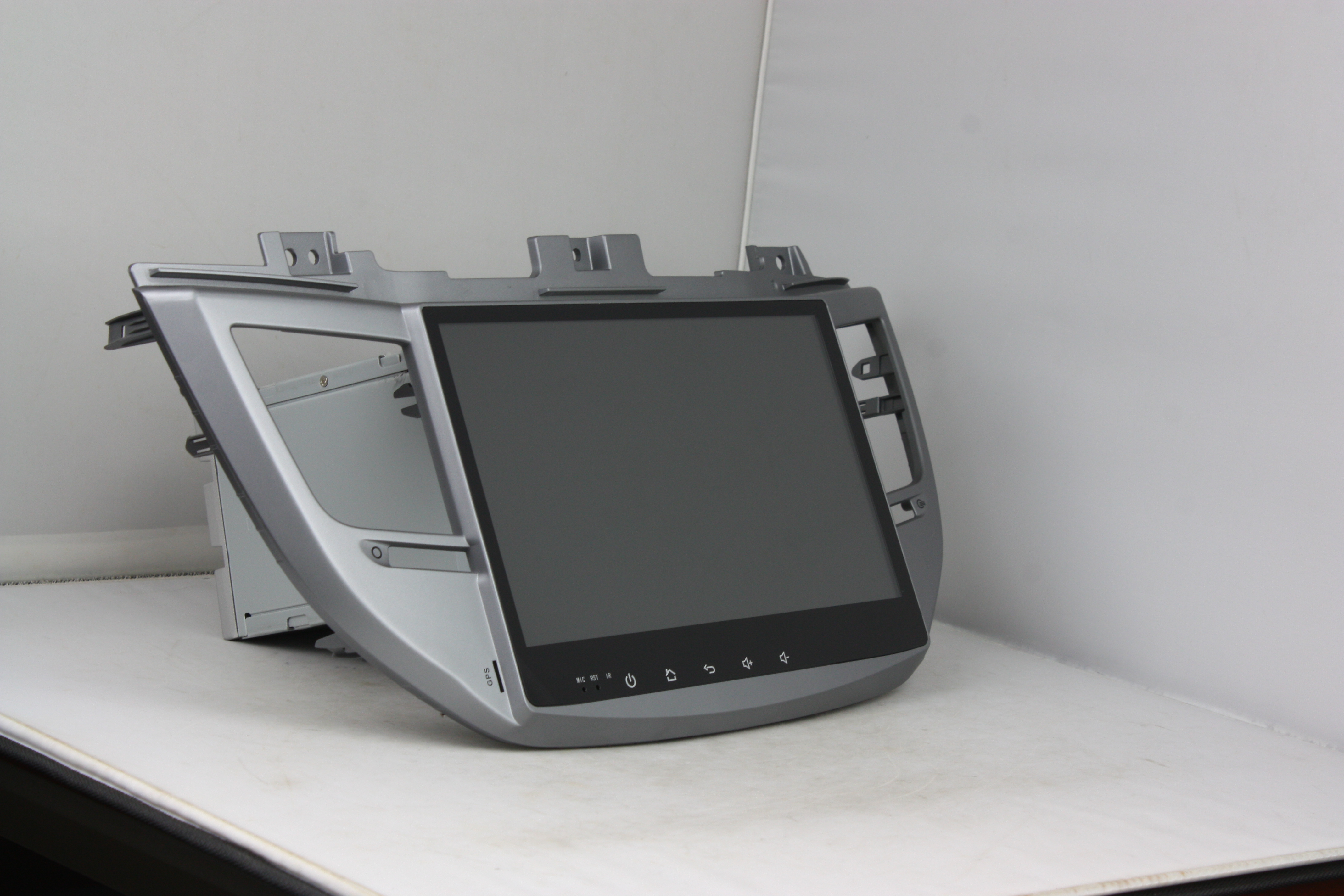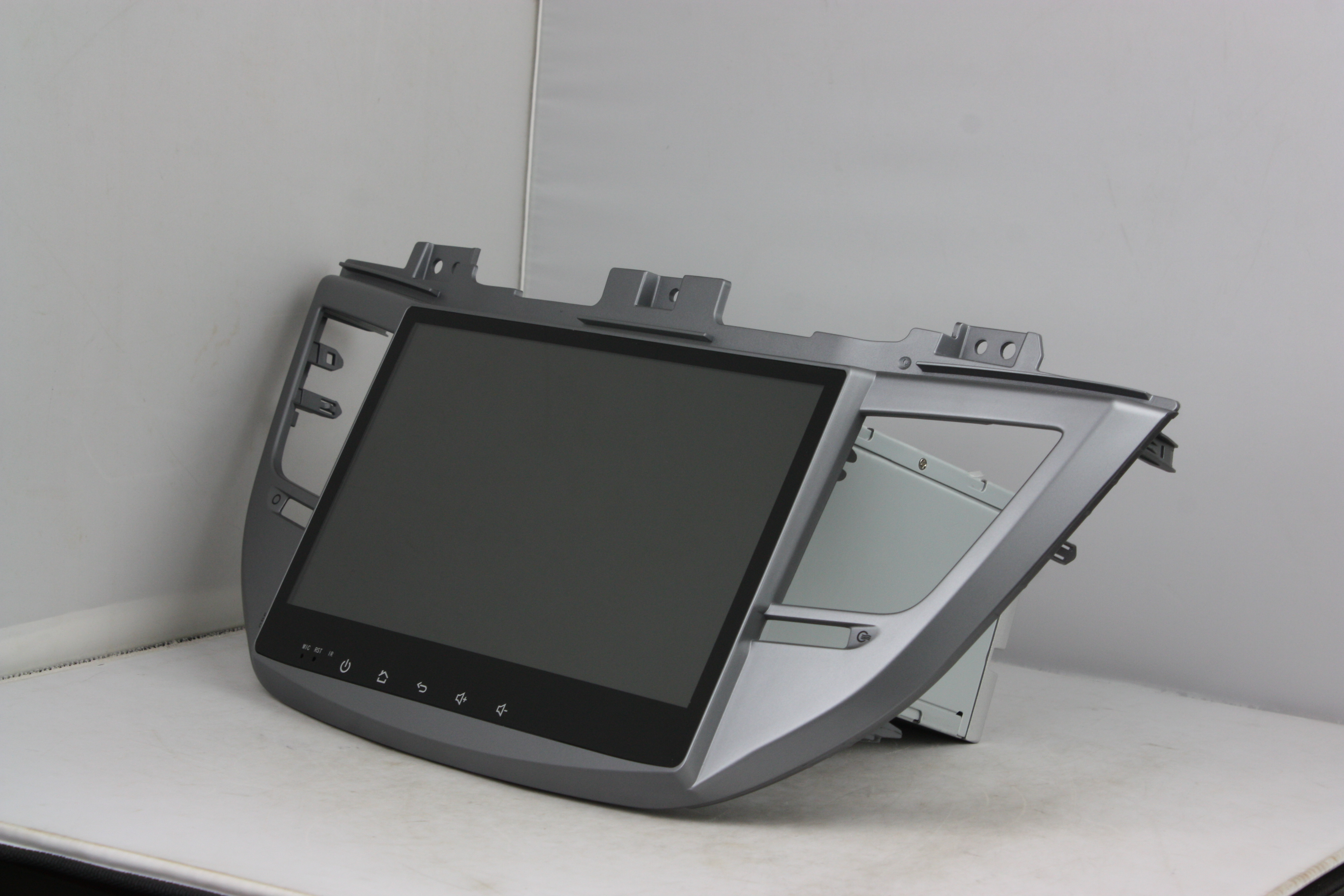 Company and sample room of Klyde:
As one of the leading Car Radio Manufacturer in China, Klyde offers a series of car radio products, it including 10.1 inch Deckless Android Car DVD; Mitsubishi Android Car DVD; Hyundai Android Car DVD; Jeep Android Car DVD; Volkswagen Android Car DVD; Renault Android Car DVD; Ford Android Car DVD etc. Product quality is our priority concern, we promise to only supply car radio products from Klyde own factory which has approved by ISO 9001, IATF16949,CE, FCC, EMC, Emark Certificates etc. As an outstanding procurement service provider, Klyde CAR RADIO has widely used in car factory, car store and after high and middle level markets. With the advantages of high quality and competitive price, our Android Car DVD Player has served the global market including Asia, Europe, South America, North America, Oceania, Africa etc.
Accessories of
TUCSON IX35 2015 car DVD player