Product Description
Klyde 12.8 inch android universal car dvd
Here recommend our new launch 12.8 inch big screen with 100° rotation android universal car dvd. This hot sales unit is equipped with PX6 2G ram 32G flash, customers can choose by themself.
This Klyde 12.8 inch android universal car dvd has two kinds of UI, and with voice control functions.
Compatibility
12.8 inch android universal car dvd

Support Steering Wheel Control and many other functions and Upgrade perfectly!
Easy installation, just exchange with the Factory Car Radio.

Main Features

OS : Android 8.1 system
CPU : Rockchip PX6 Cotex A72+A53, Six-core
RAM : SAMSUNG DDR3 , 2GB
Flansh : 32GB
Working Temperature -20℃-+80℃

Built in WIFI
steering wheel control function

Radio receiving: FM/AM can be stored 30 stations. RDS is available

Built in GPS function

Built-in Bluetooth for mobile hands-free

Qualcomm BT5.0

Video: MP4,H.264,WMV,AVI,RM/RMVB,VOB and more
Audio: MP3,WMA,WAV and more
USB/SD card port: support MP4,DIVX,JPEG,MP3 and WMA playback
Car backing display: Car reverse camera input (switch automatically)

Built in DVR function (directly connect USB camera)
Built in dual way mirror link function
Built in DSP function (optional)

Built in CarPlay function (optional)

Built in Android AUTO function (optional)
Built in 4G network function (optional)
Built in Parrot Blutooth function (optional)

Built in AHD rear view camera input (optional)
Connect external OBD (optional )
Connect external DAB BOX (optional )
Connect external TPMS (optional )

MPEG4, ISDB-T (optional)

AV output/input : 2 video out, 4audio output, 2video input ,2 audio input
Subwoofer output 4*50W

Compatible with DVD,DVD-R,DVD-RW,HDVD,DVCD,MP3,MP4,CD-R,CD-RW,VCD,DIVX,WMA etc.
Maximal power:4X50W maximum power output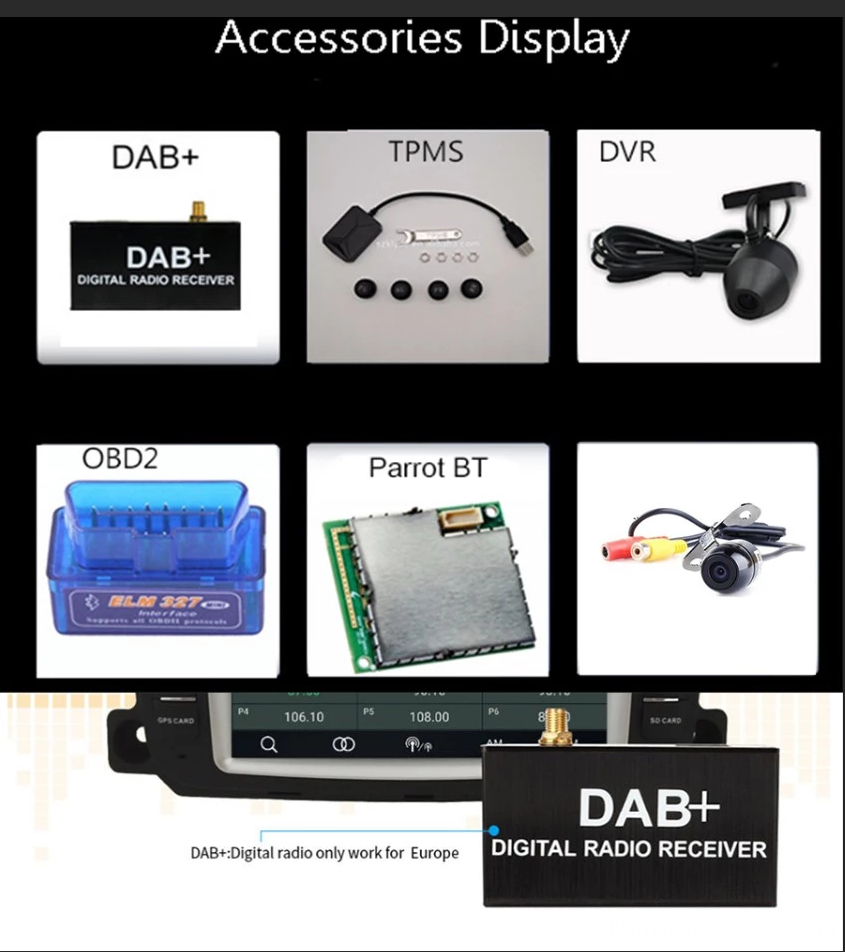 About us
High-Tech Auto & HiFi Multimedia OEM equipment for cars at Klyde is a professional Android Car DVD manufacturer that offers state-of-the-art multi-functional entertainment equipment, such as Universal Android Car DVD, Volkswagen Android Car DVD, Skoda Android Car DVD, Honda Android Car DVD, Toyota Android Car DVD, Kia Android Car DVD, Hyundai Android Car DVD, Ford Android Car DVD, Jeep Android Car DVD, Chevrolet Android Car DVD, Mitsubishi Android Car DVD, Suzuki Android Car DVD, Subaru Android Car DVD, Mazda Android Car DVD etc, Rear Cameras, DVR Cameras, DVB-T2 receivers, DSP, Car Play, OBD2, Parrot Bluetooth, TPMS, DAB box etc accessories. Focusing on the needs of those who either have to drive long distances on business or enjoy travelling by car with the family, the Klyde factory catalogue boasts over 500 electronic and multimedia solutions for a pleasant journey.